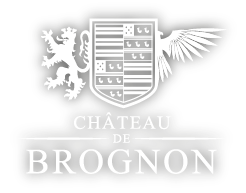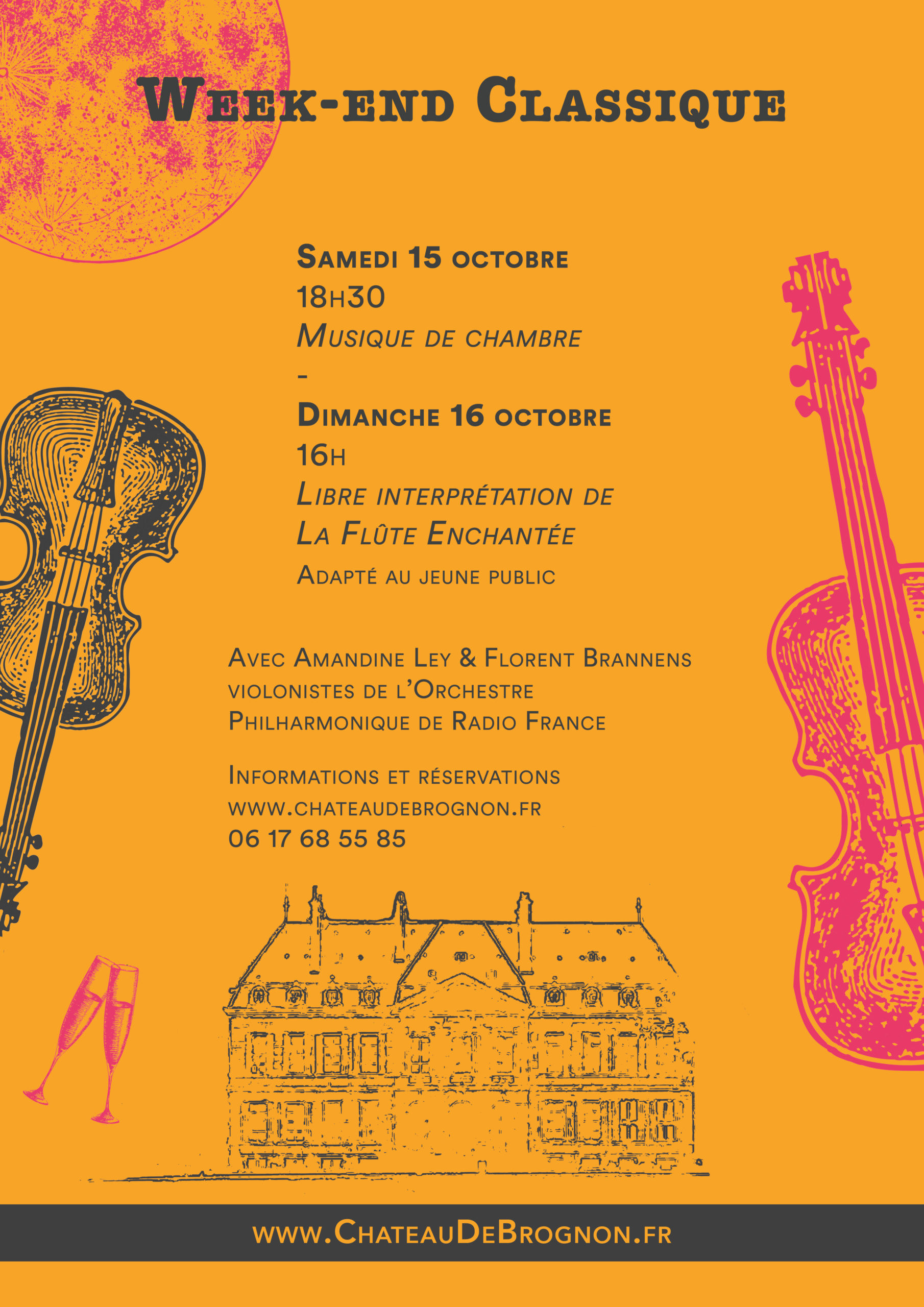 Samedi 15 octobre à 18h30
Pour cette 1ère édition des concerts au Château de Brognon, nous vous proposons la formation de musique de chambre la plus petite qui soit, le duo pour Deux Violons.
Cette formation nous permet de créer une réelle intimité entre les musiciens et le public.
Ce parcours musical nous invitera aussi bien sur les routes folkloriques de Hongrie grâce à Belà Bartòk, que dans les salons des châteaux français du 18ème siècle grâce à J-M Leclair. Nous irons également de l'Argentine à l'Angleterre avec A. Piazzola et G.F. Haëndel.
Amandine Ley et Florent Brannens, violonistes à l'Orchestre Philharmonique de Radio-France sauront vous guider dans ce voyage à travers les styles et les époques.
Dimanche 16 octobre à 16h
Libre interprétation de « La Flûte Enchantée » de W.A.Mozart
Création originale en français.
Il s'agit d'une variation autour de la célèbre œuvre dans un dialogue à la fois érudit mais accessible entre un comédien jouant les narrateurs facétieux et un duo de violons espiègles.
Spectacle accessible aux enfants
Récitant: Emmanuel Bénèche
Violons : Amandine Ley et Florent Brannens
PRESENTATION
Located in the countryside of Burgundy 10 km from Dijon, in the middle of a beautiful 50 hectare large English park, the Château de Brognon is an ideal location for a wedding, a baptism, a seminar, a tasting, an anniversary, or a movie location… The castle was built in 1749 for the first president of the Burgundy Parliament and has been with the same family since: you will be welcomed by his descendants, and can organize your event with great freedom.
An exceptional setting
The rooms inside (arched cellars) can accommodate large buffets, seminars, prestigious galas and other remarkable events. The maximum capacity of this location is 300 people standing and 150 people when seated. Tables and chairs are available on-site. You can choose your own catering service. If you like, we can recommend a provider. The location is accessible to people with reduced mobility. The two patios with 1000 m² each, as well as tents that can be set up, let you accommodate a large number of guests at the outside area of the castle. In addition, the 11 hectares of lawn, as well as the 40 hectares park can be used in various different ways: archery, soccer, olympic games, scavenger hunt, treasure hunt, or even for paint ball… There is unlimited parking; and there is even enough room for a landing site for a helicopter or a hot-air balloon.
Tourism in Burgundy!
Brognon is located in Côte-d'Or (Burgundy), between three different highway exits (Dijon Nord, Dijon Est and Dijon Sud), it is about 10 km from Dijon and 50 km from Beaune; there are numerous touristic offerings nearby. After a short drive of 4 km you can find an equestrian center, and a golf course is only 10 km away.
Rates
Starting at 700 euro during the week for half a day (price based on needs).
The cellar
In the cellars you can accommodate up to 150 people seated and up to 300 people in a cocktail setting. As you can see from the map and the pictures, in the two big rooms you have space for up to six tables (48 to 56 people), and three tables (24 to 27 people) can be placed in the two squared rooms – additionally, the entry hall could also accommodate another two tables.
There are also round tables and chairs available for you, which could accommodate up to 200 people.
Furthermore, you can set up a tent, and use the exterior of the castle.
There is an office at your disposal, equipped with a small stove (gas), an oven (electric), a chest freezer, a fridge, a sink with warm water, and a microwave. You can choose your own catering service.
Rates
This offering goes from Friday noon until Monday noon, and costs 2500 euros, plus a cleaning fee of 150 euros.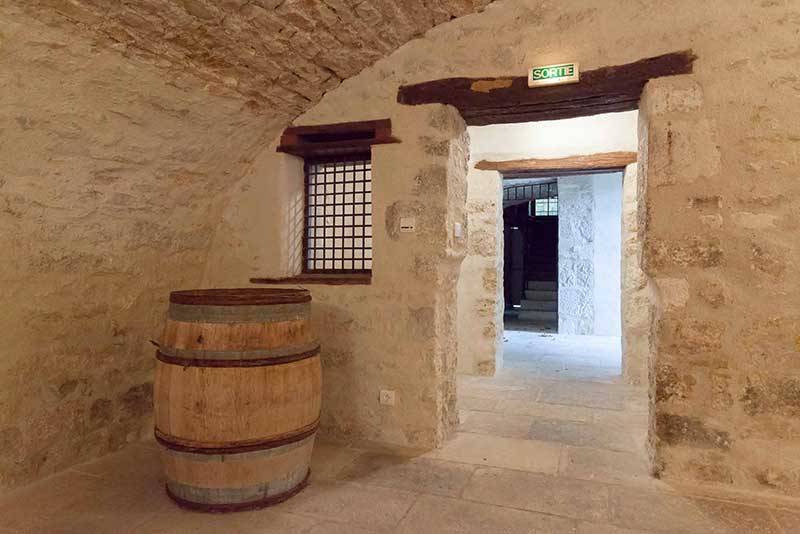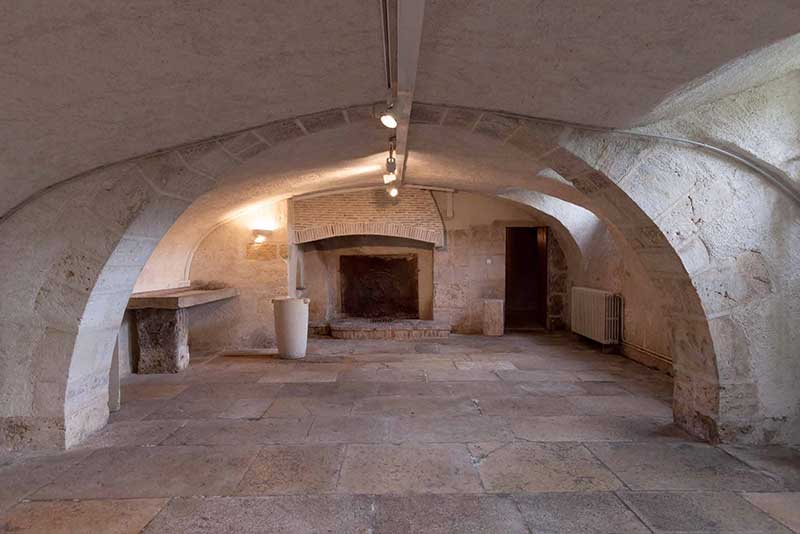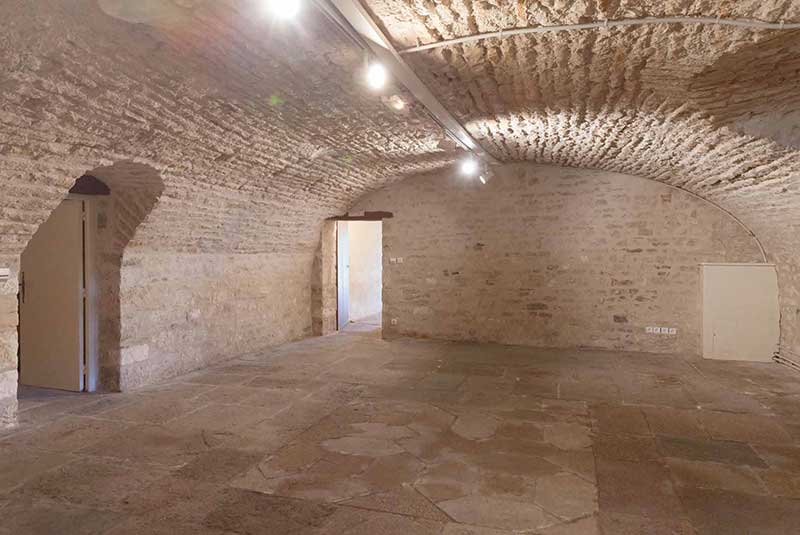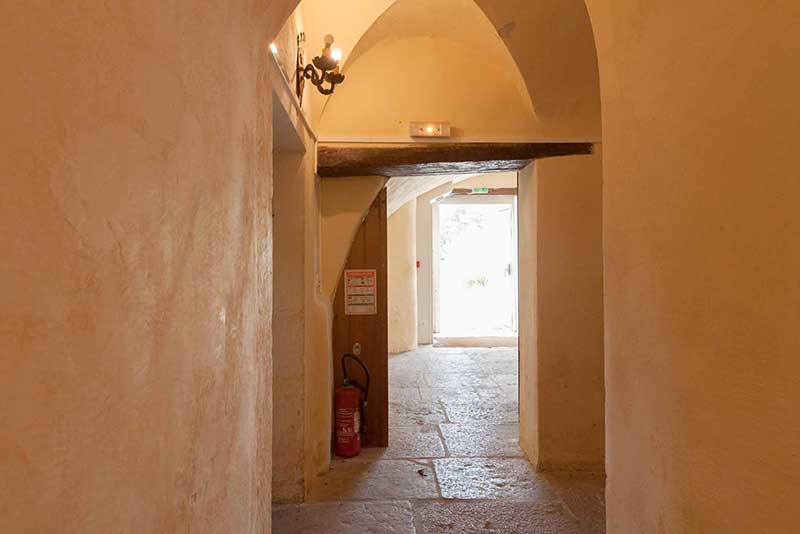 The rooms
In addition to the cellars and the outside of the château de Brognon, you can also book our rooms and accommodate up to 36 people during those three nights. This additional service provides you with sheets and towels.
Rates
This additional service, which includes sheets and towels, costs 1600 euro, plus a cleaning fee of 150 euro.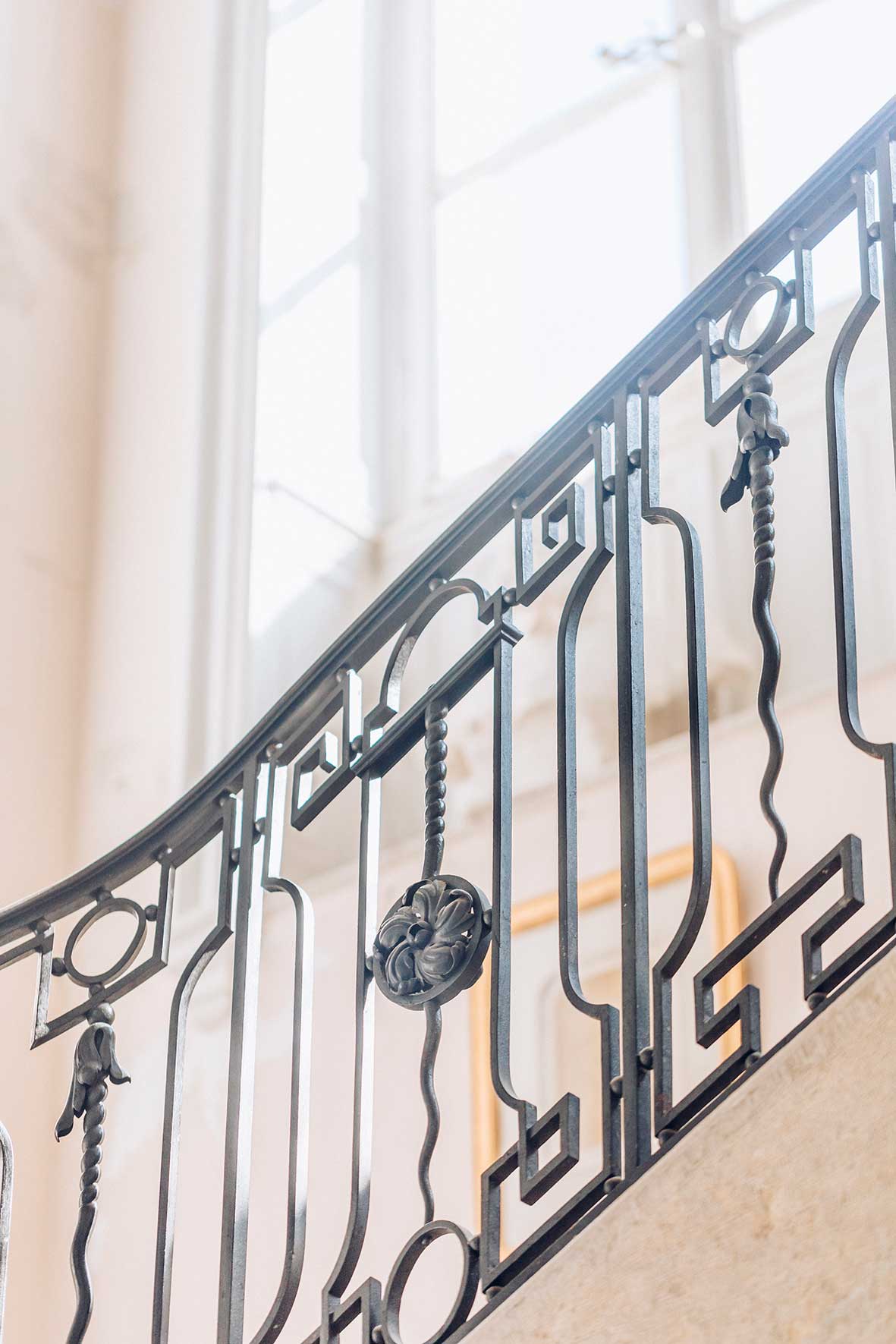 This is just a request and does not guarantee booking.
To learn about our availabilities call us at +33 3 80 23 20 90.
Château de Brognon
Route de Beire le Châtel
21490 Brognon